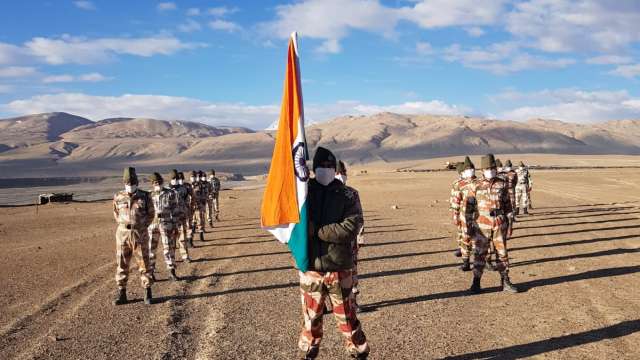 Vinayak Barot
NEW DELHI, Oct 20: The defence ministry has revised the quarantine policy for the men in all the three wings of the armed forces withdrawing the 14-day compulsory quarantine if they travelled by air for returning to duty after a short holidaying.
The fresh guidelines for the armed forces issued on Tuesday said if the short duration leave was seven days or less and a clear case of contact with a Covid-positive or suspected patient was not established, the personnel would be exempted from 14-day quarantine at their home station if they travel by air. The exemption would be applicable in both ways, while proceeding on short leave and while returning back for duty.
The quarantine policy has been changed when the on-going tension with China at the Line of Actual Control in eastern Ladakh have necessitated additional deployment of troops in the border.
The Directorate General of the Armed Forces Medical Services had issued guidelines a week after the Galwan Valley clash on June 15 in which soldiers returning from leave, from temporary duties elsewhere  or reporting for a new posting, were exempted from the mandatory 14-day quarantine, unless a clear Covid-19 infection risk was established.
But in many cases the guideline was not properly followed. The number of Covid-19 cases had significantly increased among the armed forces. Sources said local orders were still in place in several military stations, mandating 14-day quarantine for people returning from leave or temporary duties.
As per the Government data until September, there were 16,758 Covid-positive cases in the Army, 1,365 in the Navy and 1,716 in the Air Force. There had been 32 fatalities among Army personnel, three in the IAF but none in the Navy.
"Because of the pandemic, short-duration leaves were stopped, as 14 days of quarantine were considered too many for a leave shorter than that," A senior Army officer told the media.
"Even long-duration leaves were difficult to manage for all ranks. Temporary duties were virtually stopped. The new guidelines will ensure everyone can avail leaves, even short ones," the officer said.
"It will also serve the requirement of having the maximum number of soldiers available for operational duties." he added.