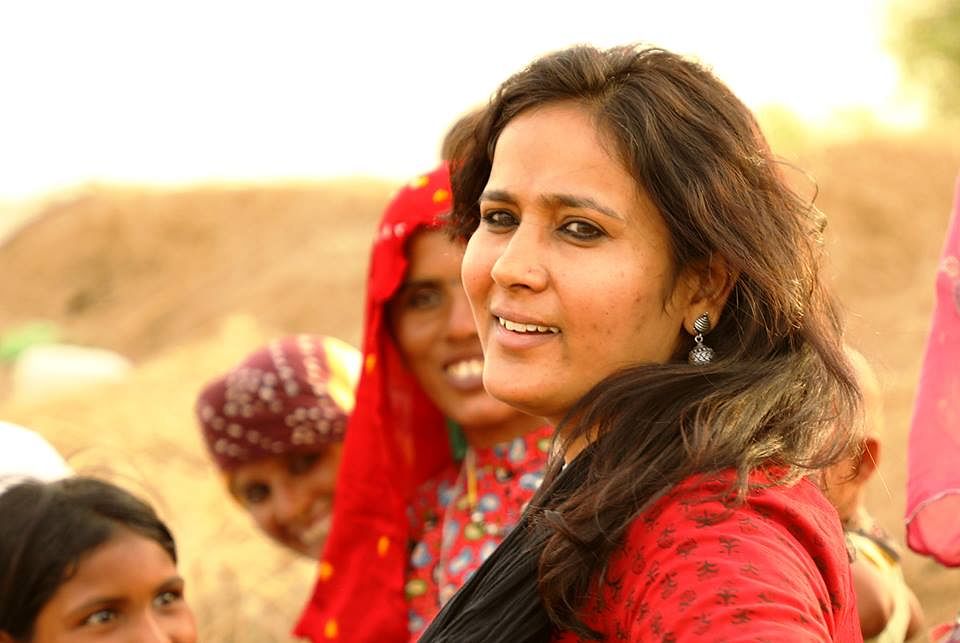 Mittal Patel – The Lifeline of the Nomadic Tribes
– By Prachi Vyas
AHMEDABAD, August 25: Mittal Patel, 38, has been a catalyst of change in the lives of stateless communities. After her post-graduation in Journalism she came to know the plight of these nomadic tribes during her project work in south Gujarat among sugar cane workers who lived in inhuman conditions and were subjected to exploitation of various types. It was due to her relentless advocacy of their rights since 2005 that they got their identity as Indian citizens and access to various welfare schemes of the government.
Hailing from Sankhalpur village in Mehsana district of Gujarat, she is the founder and managing trustee of Vicharta Samuday Samarthan Manch (VSSM).
The VSSM has been a platform for the Nomadic Tribes (NT) and De-Notified Tribes (DNT) communities and organizations supporting them. The wholesome mission is to give these communities a social identity, citizen's rights, education, health facilities and livelihood options. It came into being in 2006 and was formally registered in 2010.
Speaking to REVOI-The Real Voice of India, she said, "I had no idea about these nomadic tribes earlier". She found it astounding that the nomadic tribes had no proof that they were citizens of the country. These nomadic people stretch their living as street entertainers and traditional service providers, known variously as Madaris, Bajaniya, Dafers, Saperiya (Snake Charmers) or simply by their trades such as sharpening kitchen knives or making hand tools or straw brooms and palm leaf fans.
As the community name suggests, Gujarat's 28 nomadic tribes and 12 De-notified tribes too never had a permanent home in the state. They are constantly on move, displaying their traditional skills and selling their hand made wares. In the absence of identity proof, their children were denied admission to schools and thus remained illiterate. Touched by the difficulties they are facing even six decades after independence, Mittal took up the challenge to help them get at least identity proof.
"No politicians were interested in taking up the issues of nomadic tribes as they didn't even exist in the voters' list", Mittal said. So, she started the process of getting them enrolled on voters' lists.
That was easier said than done as official apathy towards homeless people came in the way, Mittal Patel said narrating how she had to convince the then State Chief Electoral Officer Vinod Babbar to take up the matter with the Election Commission at Delhi.
As these nomadic tribes normally settle down at one place during the monsoon, the Election Commission agreed to enlist them as homeless residents of that very spot. But that brought in another problem. Though such spots are generally on the outskirts of villages, the panchayats objected to their listing "fearing" that the nomadic people may later become claimants to nearby vacant lands. This was just one of the hurdles Mittal faced as she took up the cause of Gujarat's four million nomadic people.
"By 2007-2008, about 20,000 of these nomadic people were included in the voters' list with the VSSM volunteers filling up the forms on their behalf", said Mittal. As the movement picked up, more and more nomadic people got themselves registered. Consequently, many of these nomads could exercise their franchise for the first time in the 2009 Parliamentary elections.
Now that they were armed with voter cards, Mittal and her team worked on getting them ration cards which helped their children get admitted to schools from 2013 onwards.
With a few lakh nomadic people having voter cards as well as ration cards by the time the state Assembly was going to the polls in 2012,  Mittal was able to convince the two major political parties in Gujarat, the BJP and the Congress, to include the issues of the Nomadic tribes in their respective election manifestos.
As a result, nomadic tribes are now entitled to subsidies of Rs 70,000/- for housing schemes under 'Awas Yojana', issue of caste certificates and LPG connection under the 'Ujjwala Yojana'.
The turning point in her life came when she went against everyone's advice to meet members of the Dafer community, who were once branded as criminals.
She then realised how miserably poor they were. "When I asked a woman to feed her wailing infant she replied she couldn't, as she herself had been starving for days," Mittal said.
With tears in her eyes and determination to help these communities her fight began. These communities living on suburbs of the villages were deprived of water facilities and for working as daily wagers were usually paid very poorly. They were illiterate and suspicious of outsiders. Moreover, they found no mention in any government record except criminal records of Police.
Mittal's battle began with her writing about their rights, sitting on dharnas on footpaths with members of like-minded NGOs and meeting authorities. "It has been a demanding task for VSSM but the efforts have paid off," she said with a glimmer of satisfaction.
VSSM also has hostels for NT-DNT students in Ahmedabad city and Naroda on the outskirts of Ahmedabad. It is due to her relentless efforts that the nomadic tribes of Gujarat are now officially recognised as citizens of India.